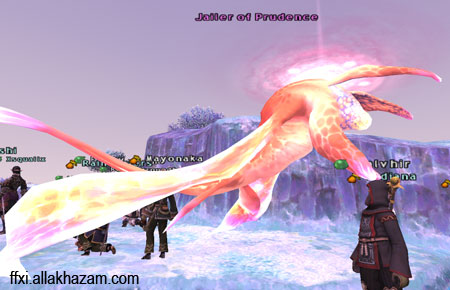 Jailer of Prudence's ??? Location
When the items are traded, two mobs named Jailer of Prudence will spawn in a closed mouth form.
See Ul'hpemde for a visual aid for the open/closed mouth Hpemde forms.
Both Jailer of Prudences will have alliance hate.
After the first Jailer of Prudence is defeated or despawned, the remaining Jailer of Prudence will enter the open mouth state typical of Hpemde type mobs.
When hate is drawn on it outside of its normal melee range, it will "teleport" to the player that drew that hate rather than travel there like normal Hpemde types.
Temporal Shift: AoE Stun effect
Ichor Stream: Frontal cone AoE Poison effect.
Sinuate Rush: AoE physical damage.
Rapid Molt: Self target full negative status effect removal with an additional Regen effect.
If there are no negative status effects on the Jailer of Prudence, it will not perform Rapid Molt.
Tail Thrust: Single target physical damage with an additional Paralysis effect.
Perfect Dodge: All melee attacks performed on Jailer of Prudence will be evaded. Ranged attacks and magic can still affect him. Denoted by the mob 2hr animation.
This page last modified 2008-09-04 16:08:20.