Family:
Crawler
Found in:
Crawlers' Nest

Level:
64
Flags:

Notorious Monster
Aggro
Linking
Detects by Sound
Based on Earth
Weak against Darkness
Weak against Ice
Weak against Lightning

Drops:
Stolen Items:
Updated: Fri Dec 28 16:26:12 2007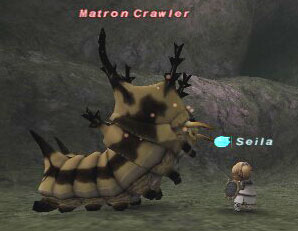 Matron Crawler will not spawn 100% of the time when the berry is traded, resulting in a "Nothing Happened" message in the chat log. Regardless of Matron Crawler spawning or not, you will lose the berry upon trading it.
Cocoon: Strong self target Defense boost effect. (Effect can be dispelled)
Poison Breath: Frontal cone AoE water damage with additional Poison effect.
Sticky Thread: Frontal cone AoE Slow effect.
This page last modified 2010-05-28 05:27:51.