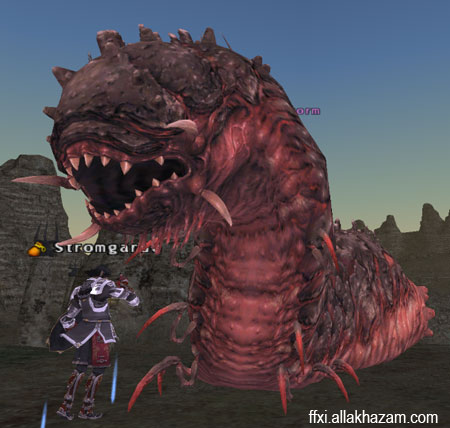 Highly resistant to Slow, Elegy, and Stun, but susceptible to Wind based spells.
Has a tendency to use TP moves right after another.
Grants title: Sandworm Wrangler
Sandworm Special Attacks
Slaverous Gale: Frontal cone AoE magic damage with additional Plague and Slow effects.
Dustvoid: Single target Knockback and gear removal effects.
Aeolian Void: Conal AoE magic damage with additional Silence and Blind effects.
Extreme Purgation: AoE full Buff and Debuff absorption (Circle of effect originates from mob).
Desiccation: Frontal cone AoE Job Ability absorption.
Doomvoid: AoE draw-in and teleportation effect.
This page last modified 2011-09-06 11:06:28.