Family:
Slime
Found in:
Mount Zhayolm

Found at Location:
J - 8
Spawned using:
Pectin
Level:
0
Flags:

Notorious Monster
Aggro
Detects by Sound
Based on Water
Weak against Fire
Strong against Water

Drops:
Updated: Sun Jun 15 10:35:54 2008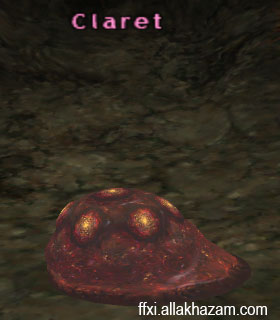 Claret's Spawn Location
Will continuously attempt to move on top of the target that has hate, after which the target will be inflicted with a potent Poison effect (100hp/tic) that overwrites the poison effect from Poison Potions.
Takes magic damage extremely well. Darkness Skillchain with 2 or more BLMS will kill it or almost kill it.
Epoxy Spread: AoE Bind effect
Fluid Spread: AoE Water based magic damage
Fluid Toss: Strong single target Water based magic damage.
Mucus Spread: AoE Slow effect
This page last modified 2009-02-21 21:29:41.