Family:
Raptor
Found in:
Sauromugue Champaign (S)

Found at Location:
K - 6
Level:
0
Flags:

Notorious Monster
Aggro
Detects by Sound
Based on Fire
Weak against Water
Strong against Fire

Drops:
Updated: Tue Jun 8 18:26:30 2010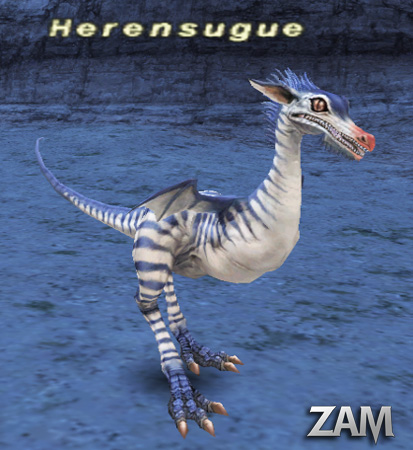 Respawn time is approximately two to four hours after its last Time of Death.
Possesses the Triple Attack Job Trait.
The Triple Attack trait is very potent, with a proc occurring nearly every attack round.
Possesses an innate Regain effect.
Immune to Bind, Gravity, and Sleep. Susceptible to Stun, Slow, and Paralysis.
Thunderbolt - Frontal cone AoE Thunder based magic damage with an additional Stun effect.
In the Basque language, Herensugue means "dragon" or "diabolic lizard".
This page last modified 2010-06-08 05:50:29.