Family:
Bee
Found in:
West Sarutabaruta

Found at Location:
E - 6
Level:
0
Flags:

Notorious Monster
Linking
Detects by Sight
Based on Wind
Weak against Ice

Drops:
Updated: Sun Jun 13 06:39:09 2010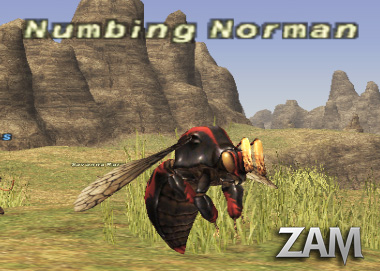 Respawn time is approximately 60 minutes after its last Time of Death.
Melee attacks have an additional Paralysis effect that cannot be dispelled.
Immune to Bind, Gravity, Sleep, and Paralysis. Susceptible to Stun and Slow.
Sharp Sting: Single target physical attack.
Pollen: Self target hp recovery effect.
Final Sting: Strong single target physical damage. Damage is proportional to the remaining hp of the monster prior to Final Sting.
Using Final Sting kills the bee following the damage being inflicted to the target.
This page last modified 2010-06-13 01:41:19.