Family:
Bee
Found in:
Abyssea-La Theine

Job:
Thief
Level:
0
Flags:

Notorious Monster
Aggro
Truesight
Based on Wind
Weak against Ice

Drops:
Updated: Thu Mar 17 06:04:24 2011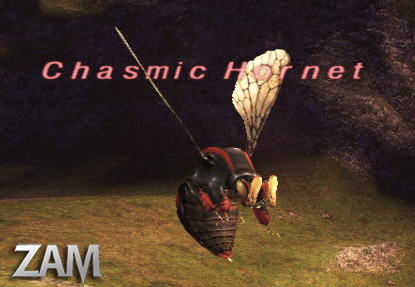 Immune to Bind, Gravity, and Sleep. Susceptible to Stun, Slow, and Paralysis.
Pollen - Self target HP recovery effect.
Frenzy Pollen - Self target Haste effect (Effect cannot be dispelled).
Terminal Sting - Single target physical damage.
Damage is proportional to Chasmic Hornet's remaining HP. Terminal Sting will cause Chasmic Hornet's HP to drop to zero.
No experience points or Cruor will be rewarded if Chasmic Hornet is defeated by means of Terminal Sting.
This page last modified 2010-07-19 09:29:56.