Family:
Sabotender
Found in:
Kuftal Tunnel

Level:
68 - 70
Flags:

Notorious Monster
Aggro
Linking
Detects by Sound
Based on Water
Weak against Darkness
Weak against Ice
Strong against Light
Strong against Water

Drops:
Updated: Mon May 12 04:51:50 2008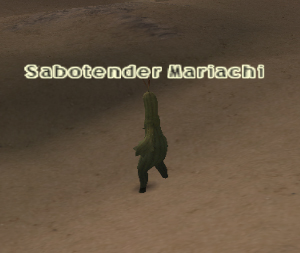 NM is a lottery spawn from the Sabotender Sediendo that spawns near the zone to Cape Teriggan.
Has auto regen during the day.
Uses needleshot, 1000 needles and photosynthesis.
Drops a crate containing a ??? item which may appraise into Bano Del Sol.
Appears on Floors: 61 - 80
This page last modified 2010-05-18 22:45:25.