Family:
Magic Pot
Found in:
Ve'Lugannon Palace

Level:
82
Flags:

Notorious Monster
Aggro
Not Linking
Detects by Magic
Based on Light
Strong against Darkness
Strong against Earth
Strong against Fire
Strong against Ice
Strong against Light
Strong against Lightning
Strong against Water
Strong against Wind

Drops:
Stolen Items:
Updated: Sun Mar 23 18:08:07 2008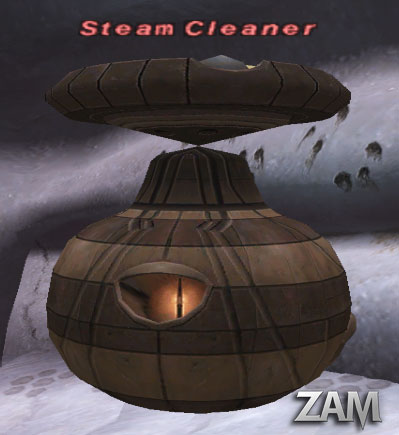 Random summon from one of the Detectors found in the basement areas of Ve'Lugannon Palace at the (C-9), (D-4), (L-4), or (M-9) entrances.
Detectors can spawn up to five Caretakers at intervals of roughly one to two minutes following the defeat or despawn of a previously spawned mob. Steam Cleaner, when it's respawn window opens, is capable of spawning in place of any of the Caretakers.
Melee effect have an additional TP Drain effect that cannot be dispelled.
Spinning Attacks: Frontal cone AoE physical damage.
Battery Charge: Self target mp recovery effect.
Mysterious Light: AoE Light based magic damage with additional Gravity effect.
Spectral Barrier: Self target Magic Immunity effect. (Dispel effects will be resisted, so this effect cannot be dispelled).
Mind Drain: Single target Mind absorption effect.
Double Ray: Single target magic damage.
Black Mage Spells: Capable of casting any spell from the Black Mage repetoire up to lv. 75, excluding the Tier 2 merit Ancient Magic spells (Burst II, Freeze II, etc.)
This page last modified 2009-10-11 03:10:21.