Family:
Crawler
Found in:
Balga's Dais

Job:
Red Mage
Level:
0
Flags:

Notorious Monster
Based on Earth
Weak against Darkness
Weak against Ice
Weak against Lightning

Drops:
Stolen Items:
Involved in Quests:
Updated: Fri Dec 28 16:26:12 2007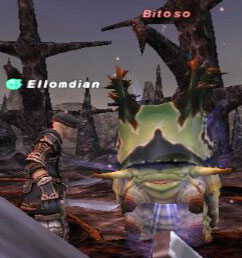 Highly resistant to Silence. Susceptible to Sleep.
Cure III: Single target HP recovery effect. (Bitoso will frequently use this spell, regardless of its hp level, until it runs out of mp.)
Paralyga: AoE Paralyze effect. (Circle of effect originates from spell target).
Cocoon: Self target Defense boost effect. (Effect can be dispelled)
Sticky Thread: Frontal cone AoE Slow effect.
Poison Breath: Frontal cone AoE Water based magic damage with additional Poison effect.
In Romanian legend, the Bitoso was a multi-headed worm of otherwise normal appearance and size that was said to induce stomach-aches and decreases in appetite.
This page last modified 2008-03-22 20:15:18.