Family:
Yovra
Found in:
Al'Taieu

Spawntime:
1 Hours
Level:
82
Flags:

Aggro
Detects by True Sound
Based on Lightning
Weak against Ice
Strong against Lightning

Drops:
Updated: Sat Apr 26 06:57:49 2008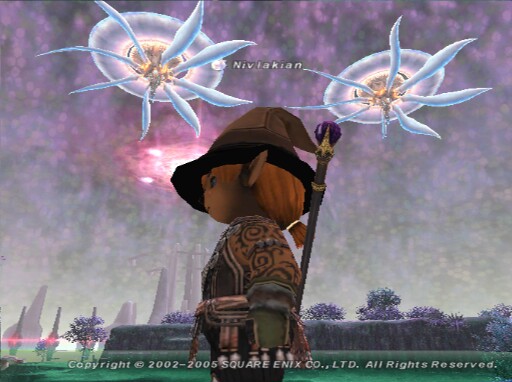 Multiple spawn points in the southern regions of Al'Taieu.
Aggroes to True Sound, and will aggro if anyone runs close to, or directly below them.
Has a strong auto-regeneration effect that cannot be dispelled.
Melee attacks have an additional Paralysis effect.
Fluorescence: Self target Attack boost effect that wears off on the following melee attack or physical tp move. (Effect can be dispelled)
Torrential Torment: AoE magic damage with an additional effect of unequipping all gear.
Vitriolic Barrage: AoE magic damage with an additional Poison effect. Damage is calculated by dividing 1,000 by however many players and/or pets are hit by it. This means that a Vitriolic Barrage that hits ten targets will do a maximum of 100 damage to them.
Concussive Oscillation: AoE damage with additional Gravity and Knockback effects.
Primal Drill: AoE physical damage with an additional Bind effect.
Ion Shower: AoE magical damage with an additional Stun effect.
Asthenic Fog: AoE Water based DoT with an additional Strength down effect.
Luminous Drape: AoE Charm effect.
This page last modified 2008-04-25 23:59:37.