Family:
Rabbit
Found in:
Uleguerand Range

Found at Location:
K - 11
Spawned using:
San d'Orian Carrot
Job:
Warrior
Level:
70 - 72
Flags:

Notorious Monster
Aggro
Based on Earth
Weak against Darkness
Weak against Lightning
Weak against Water

Drops:
Stolen Items:
Updated: Wed Jun 29 23:04:27 2011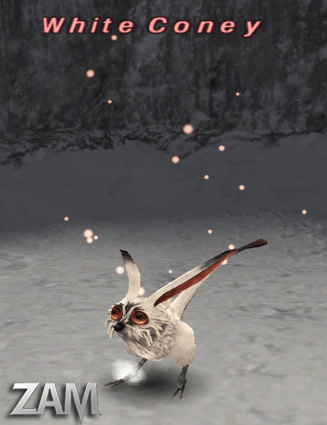 White Coney can only be spawned during a Full Moon
Respawn time on the Rabbit Footprint is 15 minutes after the Full Moon phase first begins and 15 minutes after White Coney has been defeated or despawns.
The Rabbit Footprint will move periodically around the area of (K-11)
Susceptible to Bind, Gravity, Sleep, Stun, and Slow. Susceptible to Paralysis, but builds a resistance over time.
Wild Carrot - Self target HP recovery effect
This page last modified 2011-06-29 18:32:38.