Family:
Ghost
Found in:
Gusgen Mines

Found at Location:
G - 6
Level:
36 - 43
Flags:

Notorious Monster
Aggro
Not Linking
Appears at Night
Detects by Sound
Detects by Low HP
Based on Ice
Weak against Fire
Weak against Light
Strong against Darkness
Strong against Ice

Drops:
Updated: Fri Dec 28 16:26:12 2007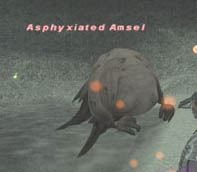 Spawns at G-6 on the third map after the siren sounds at either 0:00, 1:00 or 2:00.
NM drops a crate containing a ??? item which may appraise into a Malgust Ring.
Appears on floors 1 - 20.
This page last modified 2010-04-06 19:58:59.