Family:
Yovra
Found in:
Abyssea-La Theine

Job:
Paladin
Level:
0
Flags:

Notorious Monster
Aggro
Not Linking
Detects by True Sound
Based on Lightning
Weak against Ice
Strong against Lightning

Drops:
Updated: Fri May 13 23:59:44 2011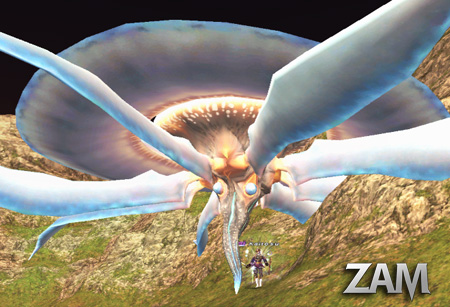 Respawn time is approximately 90 to 120 minutes after its last Time of Death.
Will "rage" if it is not defeated within 60 minutes of being claimed.
Allowing it to de-aggro will cause it to immediate come out of "rage" and ascend to the sky.
Does not possess an auto-regen trait like most Yovra type mobs.
Immune to Bind, Gravity, and Sleep. Susceptible to Stun, Slow, and Paralysis.
Fluorescence: Self target Attack boost effect that wears off on the following melee attack or physical tp move. (Effect can be dispelled)
Torrential Torment: AoE magic damage with an additional effect of unequipping all gear.
Vitriolic Barrage: AoE magic damage with an additional Poison effect.
Damage is calculated by dividing 1,000 by however many players and/or pets are hit by it. This means that a Vitriolic Barrage that hits ten targets will do a maximum of 100 damage to them.
Concussive Oscillation: AoE damage with additional Gravity and Knockback effects.
Primal Drill: AoE physical damage with an additional Bind effect.
Ion Shower: AoE magical damage with an additional Stun effect.
Asthenic Fog: AoE Water based DoT with an additional Strength down effect.
Invincible: Physical and ranged attacks dealt to Ovni will do 0 damage for the duration of the effect.
Denoted by the characteristic mob two-hour animation.
After Ovni uses Invincible, it will receive a damage mitigation effect that will not wear off and cannot be dispelled. Each progressive use of Invincible will increase the potency of the mitigation effect.
This page last modified 2010-08-25 19:54:04.