Family:
Sahagin
Found in:
Sea Serpent Grotto

Spawntime:
16 to 21 Minutes
Job:
Bard
Level:
72 - 74
Flags:

Notorious Monster
Aggro
Linking
Detects by Sound
Detects by True Sound
Based on Water
Weak against Lightning
Strong against Water

Drops:
Updated: Mon Dec 5 18:10:07 2011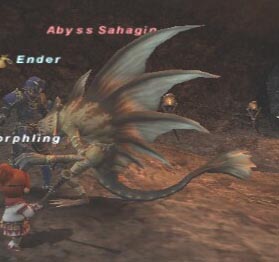 Respawn time is approximately 25 minutes after its last Time of Death.
Susceptible to Bind, Gravity, Sleep, Slow, Stun, and Paralysis.
Bard Songs: Capable of casting all songs available to a level 75 Bard except the tier II merit songs.
Hydro Shot: Single target physical damage with additional Enmity down and Knockback effects.
Hydro Ball: Single target Water based magic damage with an additional Strength down effect.
Spinning Fin: AoE physical damage with an additional Stun effect (Circle of effect originates from user).
Bubble Armor: Self target Shell effect (effect can be dispelled).
Soul Voice: Increases the potency and accuracy of all Bard songs cast during the duration of the effect.
Denoted by the characteristic mob two-hour animation.
This page last modified 2010-05-27 21:17:10.