Family:
Morbol
Found in:
Ordelle's Caves

Spawntime:
21 Hours
Job:
Warrior
Level:
42 - 44
Grants Title:
Morbolbane
Flags:

Notorious Monster
Aggro
Not Linking
Detects by Sound
Based on Earth
Weak against Fire
Strong against Water

Drops:
Stolen Items:
Involved in Quests:
Updated: Sun Jun 5 01:43:41 2011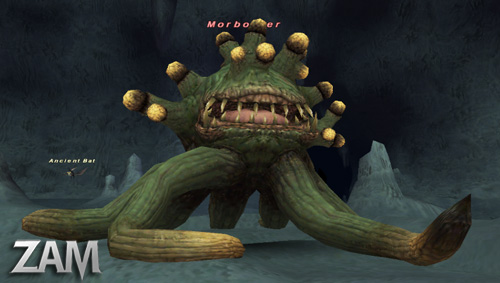 Respawn time is approximately 21 to 24 hours after Morbolger was last defeated.
Is capable of aggroing regardless of player level.
Title granted: Morbolbane
Sweet Breath - AoE magic damage with an additional Sleep effect (Circle of effect originates from mob).
Bad Breath - AoE Earth based magic damage with additional Bind, Blind, Paralysis, Poison, Silence, Slow, and Weight effects (Circle of effect originates from mob).
Drain Whip - Single target HP, MP, or TP Drain effect.
Impale - Single target physical damage with additional Poison and Paralysis effects.
Vampiric Lash - Single target Darkness based HP Drain effect
This page last modified 2011-06-04 21:32:00.