Family:
Crab
Found in:
Korroloka Tunnel

Found at Location:
H - 8
Level:
40
Flags:

Notorious Monster
Not Aggro
Not Linking
Based on Water
Weak against Ice
Weak against Lightning
Strong against Water

Drops:
Stolen Items:
Updated: Fri Dec 28 16:26:12 2007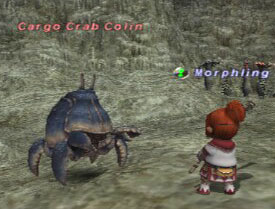 Lottery spawn from the Clipper at H-7 and H-8 on the fourth map, usually on or near the bridge over the river.
Average respawn time is roughly 2 hours.
Placeholder spawns every 12 minutes.
Resistant to silence, sleep, bind, poison.
Vulnerable to blind, paralyze and slow.
High defense against melee attacks.
Melee attacks from mob have additional effect of poison.
A version of this mob can be found in Nyzul Isle. The armory crate it drops when defeated contains a ??? Sword, which can be appraised into a Nadrs.
This page last modified 2010-01-09 14:37:08.