Switchstix in Castle Zvahl Baileys can upgrade degraded weapons if you bring him the things he wants. The first upgrade will require:
Lungo-Nango Jadeshell
x3 The
Relic Axe
is a drop from
Dynamis - Bastok
. The
Angel Skin
can be found at the Auction House or obtained from a
Devil Manta
, which is a monster fished up. The
Chronos Tooth
can be made by a Veteran Bonecrafter using a
Colossal Skull
. Trade the four items and payment in Jadeshells to
Switchstix
and he will upgrade it to a
Leonine Axe
. You will need to wait until midnight in Japan and he will give you the axe.
The second upgrade will require:
Montiont Silverpiece
x14 Trade the four axes to
Switchstix
along with payment. He will upgrade the
Leonine Axe
to the
Dynamis Axe
. This will take about 1 week Earth time.
The third upgrade will require:
One Hundred Byne Bill
x60
The Attestation drops from the notorious monster Dagourmarche in Dynamis - Beaucedine. Trade attestation, axe, and payment to Switchstix and he will upgrade your Dynamis Axe to the Ogre Killer. The Ogre Killer will allow you to use the special weapon skill Onslaught, but only in Dynamis areas. This upgrade will take 82 hours from when it was traded in.
The fourth upgrade will require:
Fee: Rimilala Stripeshell x1
The Runaeic Fragment is dropped by the Animated Tabar in Dynamis-Xarcabard.
Trade your Ogre Killer, your fragment, your necropsyche, and your stripeshell to the blank area at (H-7) in Western Altepa Desert to receive a cutscene, your Guttler, and 30 Lungo-Nango Jadeshells.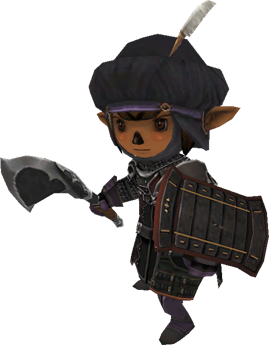 This page last modified 2009-03-25 00:21:39.