Family:
Slime
Found in:
Inner Horutoto Ruins

Found at Location:
F - 9
Spawntime:
2 Hours
Level:
0
Flags:

Notorious Monster
Based on Water
Weak against Fire
Strong against Water

Drops:
Updated: Fri Dec 28 16:26:12 2007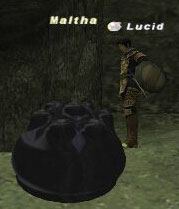 Timed spawn that appears every one to two hours.
Has potent, native haste effect.
Immune to sleep.
Weak to magic damage.
NM has roughly 850 HP.
Casts drain and aspir.
This page last modified 2010-04-26 22:46:36.