Family:
Evil Weapon
Found in:
Ro'Maeve

Found at Location:
K - 8
Job:
Red Mage
Level:
0
Flags:

Notorious Monster
Aggro
Linking
Appears at Night
Detects by Magic
Based on Wind
Weak against Fire
Weak against Light

Drops:
Updated: Sat Mar 28 01:36:59 2009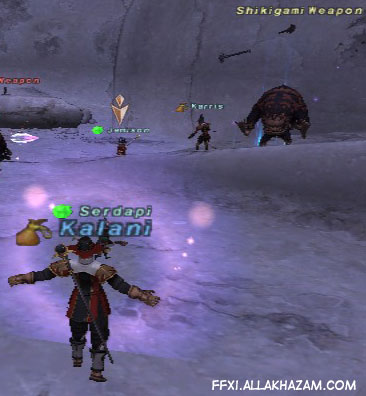 Spawns primarily around the areas of (H-8), (H-9), (E-8), and (K-8) in Ro'Maeve.

Shikigami Weapon's Spawn Location
Shikigami Weapon can spawn anywhere on the second or third levels, but it will primarily spawn in one of the four aforementioned locations.
Respawn time is between 21 hours to 21 hours and 15 minutes after its last Time of Death.
After a server reset, the respawn timer will be exactly 21 hours after the servers come back online.
Spawns with an innate Invisible effect that wears off only when aggroed, and will roam around the second and third levels.
Players are unable to attack Shikigami Weapon while its Invisible effect is up, though it can be detected through Wide Scan.
If all players that have enmity on Shikigami Weapon are defeated, or if they've lost enmity by other means, Shikigami Weapon's name will change green before its Invisible effect comes up again. Because of this, one must re-aggro it anew.
Susceptible to Sleep and immune to Silence.
Red Mage Spells - Shikigami Weapon is able to cast all spells available to a level 75 Red Mage, including the tier II merit spells.
Shikigami Weapon is also able to cast Diaga II and III.
Smite of Rage - Single target critical hit physical damage.
Whirl of Rage - AoE physical damage with an additional Stun effect (Circle of effect originates from mob).
In Japanese mythology, Shikigami were spirits summoned by sorcerers known as Onmyoji that could take the form of birds, small animals, or as disembodied entities capable of possessing people. A skilled Onmyoji was capable of calling forth up to a dozen Shikigami, though it was possible for Shikigami to break free of an Onmyoji's control, rendering them dangerous to their former masters.
This page last modified 2009-03-27 23:36:40.