Switchstix can upgrade degraded weapons if you bring him the things he wants.
The first upgrade will require:
Fee: Lungo-Nango Jadeshell x3
The Relic Horn is a drop from Dynamis - Jeuno. The Mammoth Tusk can be made by a Veteran Boneworker from a Giant Frozen Head. The Chronos Tooth can be made by an Veteran Boneworker from a Colossal Skull. Trade the four items and payment in Jadeshells to Switchstix and he will upgrade it to a Pyrrhic Horn. You will need to wait one game day to get it from him.
Switchstix says that beastmen enjoy the horns we make and so wants you to bring him some of them so he can sell them to others.
The second upgrade will require:
Fee: One Hundred Byne Bill x14
Trade the four horns and payment to Switchstix. He will upgrade the Pyrrhic Horn to the Dynamis Horn. This will take about 1 week Earth time.
The third upgrade will require:
Fee: Montiont Silverpiece x60
The Attestation drops in Dynamis - Beaucedine. Trade the attestation to Switchstix along with the Dynamis Horn and currency and he will upgrade it to the Millenium Horn. The Millenium Horn will give you +3 Charisma and +2 to all songs, but only in Dynamis areas.
The fourth upgrade will require:
Fee: Rimilala Stripeshell x1
The Mysterial Fragment is dropped by the Animated Horn in Dynamis - Xarcabard.
Trade your Millenium Horn, your Necropsyche, your Fragment, and your currency to the ??? at the northern hole in Valley of Sorrows to obtain a cutscene, your Gjallarhorn, and 30 Lungo-Nango Jadeshells.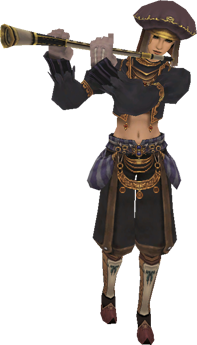 This page last modified 2009-03-25 00:16:06.