This character profile is part of the FFXI Lore compilation. This page may contain SPOILERS. Read at your own risk.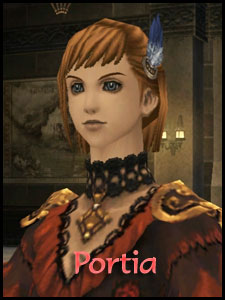 Race: Hume
Gender: Female
Discerning Quote:
Portia is a dancer in Troupe Mayakov.
Portia appears in cutscenes of the following quests and missions.
Portia is introduced.
Promises of shopping.
Riding with Sir Ragelise.
Fawning over Sir Ragelise.
This page last modified 2009-05-03 01:35:26.