The beastmen are said to have walked Vana'diel since the birth of the five races. Created by the god Promathia, the beastmen hordes live scattered throughout the world in their various strongholds. Although there have been moments of peace between beastmen and the civilized races, the beastmen are most often set on carrying out the Twilight God's wish -- to wreak havoc on those who would bring peace to Vana'diel.

Beastmen population distribution
The beastmen hordes include:
Guillboire, a warrior who stands on the veranda overlooking Southern Sand'Oria, has extensive knowledge of the creatures of the world. Through his research, Guillboire was able to map the connections existing between these creatures. Beasts pierce Lizards with their fangs, Lizards swallow Vermin in one gulp, Vermin subsist off of Plantoids, and Plantoids disintegrate the dead flesh of Beasts. Birds snatch the Aquans away to die, Aquans gobble up Amorphs, and Amorphs feed off the carcasses of Birds. The Undead and Arcana oppose each other, as do Dragons and Demons.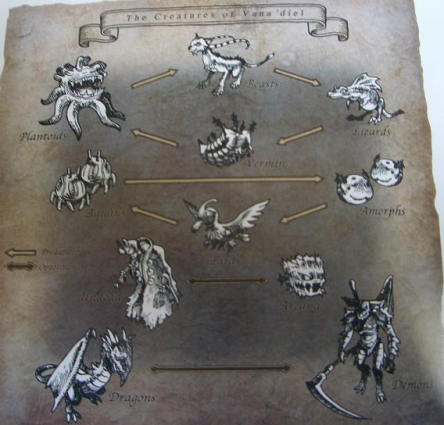 Some/all of the information in this article has been culled from various FFXI guides, and translated by Elmer the Pointy.
This page last modified 2007-10-30 21:55:50.