Family:
Dynamis - Quadav
Found in:
Dynamis - Buburimu

Job:
Samurai
Level:
75 - 77
Flags:

Aggro
Linking
Detects by Sound
Based on Water
Weak against Lightning

Drops:
Updated: Mon Jan 23 21:53:44 2012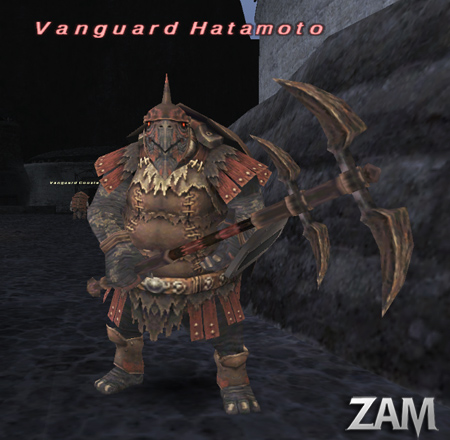 Stagger Method: Weaponskills.
Head Butt - Single target physical damage with additional Knockback and Stun effects.
Howl - AoE Attack boost effect (Circle of effect originates from mob. Effect can be dispelled).
Ore Toss - Single target ranged physical damage.
Shell Bash - Single target physical damage with an additional Stun effect.
Shell Guard - Self target Defense boost (Effect can be dispelled).
Meikyo Shisui - Increases Vanguard Hatamoto's TP to 300% and causes TP moves to only use 100% TP, allowing for three TP moves in quick succession.
Denoted by the characteristic mob two-hour animation.
A red-exclamation stagger will prevent the Vanguard Hatamoto from using Meikyo Shisui if it is staggered prior to it being used.
This page last modified 2012-02-06 22:13:27.